Rising star Kristina Korban, known as KORR-A, is a not only a beautiful model, actress, film producer but also a talented dancer and singer. She has thousands of followers on her Instagram @korr_a and over a million views of her music video Fiyacraka. We met her at BET Awards Fashion Technology Bazaar hosted by Cynthia Bailey. The event took place on June 25th and was a part of BET Experience Week celebration. KORR-A seemed to enjoy overall BET Experience and shared her thoughts with us.
HGM.: Hi Korr-a! Nice to finally meet you! Is it your first time at BET Experience?
KORR-A: No, it's not my first time here.
HGM.: What do you like about it?
KORR-A: I think it's a great way to celebrate everything that has been done in this industry especially for BET Community, and it's just a lot of fun.
HGM.: What makes you enjoy hip hop industry and hip hop music?
KORR-A: I like everything about it: people speaking about subjects that matter to them, really vocalizing everything that's important and comes from the heart. They are expressing themselves, and that's what I love about it.
HGM.: What made you to become a hip hop artist?
KORR-A: It was natural, I guess. I've always been a dancer, and you can dance hip hop/dance music, so that's what I always wanted to do, to make music people could move to and have a good time too. Here I am!
HGM.: I know your success came with the video FIYACRAKA and your choreography there is just amazing. Are you a professional dancer?
KORR-A: I've been dancing all my life. That music video was really cool because I had a lot of people I grew up dancing with in the video with me, so it was a lot of fun to just create a project with someone you know so well.
HGM.: Did you enjoy the video making process itself?
KORR-A: Yeah, absolutely. I loved it!
HGM.: What did you like the most about it?
KORR-A: I think we shot that video for over 24 hours straight and I didn't have time to take a nap but I loved it, that feeling you have at the end of the day when you feel so drained that you almost feel hyper, and I just love it.
HGM.: I know you had couple more videos after that. Let's talk about it.
KORR-A:  I released couple more songs, my latest one is Heart Of Glass produced by  Dave Aude and Everybody Gets Down produced by Kizzo, and they both are doing really well. One is more of a club track, and the other one is more of a pop music, the direction I am transitioning a little bit to. I got a lot of support and great feedback recently.
HGM.: Do you have a lot of fans/followers on your Instagram or Snapchat?
KORR-A: Yeah, I definitely do, and the number is growing. It's good to know that people like what I do and support me. It's a great feeling. Just keep it up!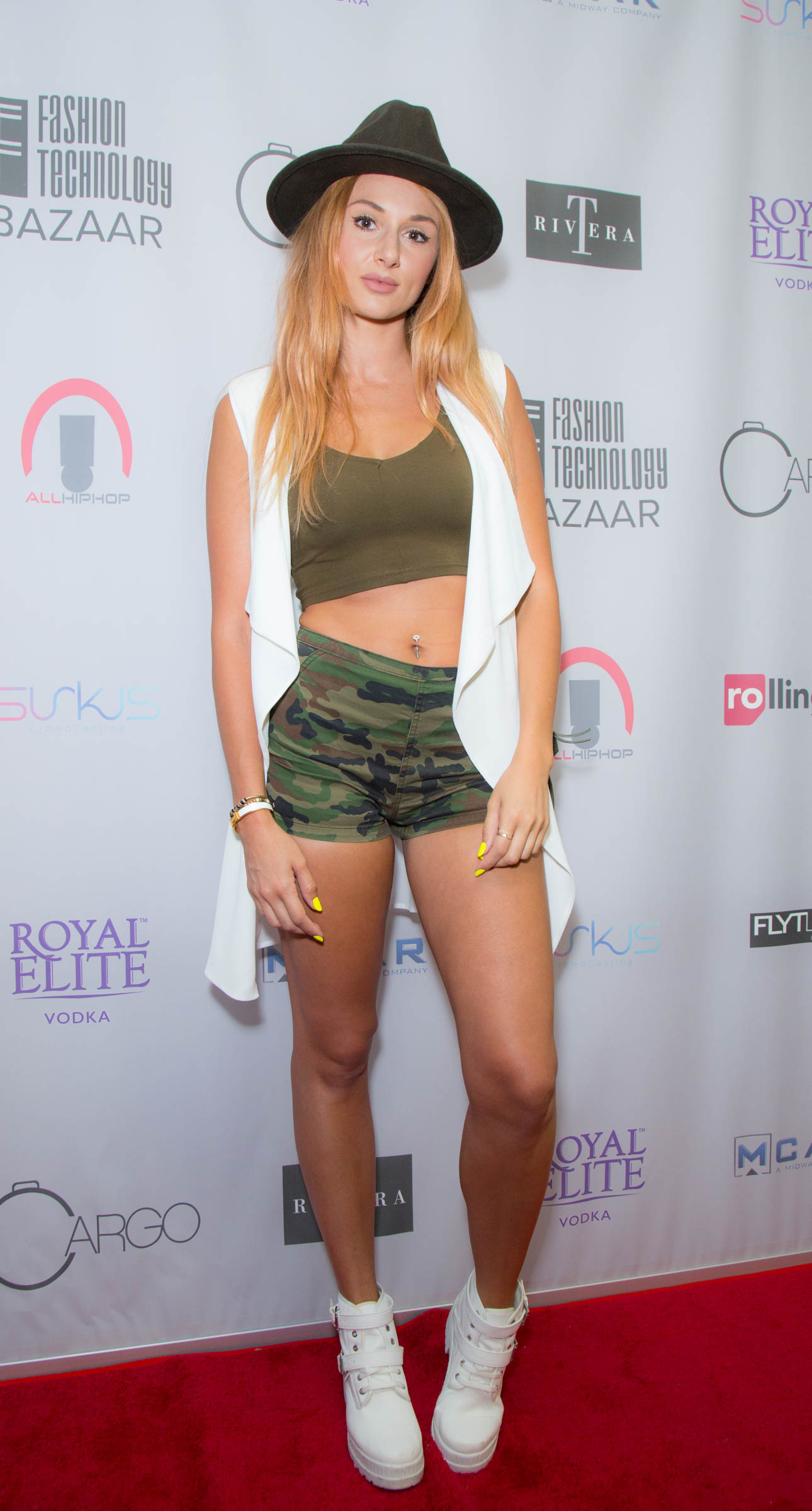 HGM.: How would you describe your unique style?
KORR-A: I would describe it as kind of edgy, fearless and "I don't care what people think" style. I don't always wear nor do what others do, and that's fine. I believe individuality is what gets you noticed and what people look up to.
HGM.: Who is your biggest inspiration?
KORR-A: I think one of my favorite artists is Fergie.  I definitely look up to her because she does what I do, she does kind of rap thing, she sings, she is really edgy and spunky, and cool. She's been around the Globe and back just doing her thing and being herself.
HGM.: What's next for you?
KORR-A.: I am currently working on EP and I have a single coming out as well. It's called California. It's coming out in July.
HGM.: Can you reveal any details?
KORR-A.: It's a fun song about loving California. I obviously live in California and like it a lot.
HGM.: Do you consider yourself a typical California girl?
KORR-A: No, not at all. I feel like in California everyone is always in a good mood, happy and relaxed enjoying life, and we have to go back to California for providing us with that mood, you know?
HGM.: I know you are also a model. Do you like modeling?
KORR-A: I am not against it but it's not the direction I am mainly focusing on. People just love my look and always want me to do promo for them.
HGM.: What advice would you give to someone who wants to be an artist?
KORR-A: I would say "just do it" as soon as you even have that little light bulb in your head, start as soon as possible and just do it and don't let anybody stop you, don't think about it twice, trust me, that's the only way it's gonna happen. Don't waste your time.
Follow KORR-A:
http://www.facebook.com/korramusic
http://www.twitter.com/korr_a
http://www.soundcloud.com/korr-a
http://www.youtube.com/korramusic
http://instagram.com/korr_a
www.korr-a.com
Photo by: Misha Urubkov