October 12th, 2016, The Beverly Hilton Hotel, Beverly Hills
By Cristina Burlacu
Avant-Garde designer Rocky Gathercole rocks Hollywood. That was the first thing that came to my mind when I saw his runway show during Art Hearts Fashion Week founded by designer Erik Rosete (Mister Triple X). I was watching the models walking the runway like a little girl who was staring at beautiful dolls. This talented designer is a true artist; his bright clothes are full of life and energy.
Now I can understand why he has so many celebrities like Katy Perry and Paris Hilton wearing his pieces.  His creations are all about "Be bold or go home".
It is hard to not relate his work to some maleficent personalities because of shapes and colors. But that's not a bad thing; it's just a personal way of seeing the world. If something looks weird to you, it's all about your own perception.
Of course, the designer also has "less provocative" dresses, still very remarkable and full of mystery. As a wonder woman you have to have a taste for Gathercole's creations. It always takes courage to be different.
Rocky is considered an Avant-Garde designer, and his unique collections can transform each ground in a kind of mystical and fantastic phenomenon.  Rocky could be a perfect designer having his pieces shown in a mystery movie, drama or a blockbuster.  Some people might think his design is too weird or too bold, just remember: Rocky's clothing lines are not for everyone. He creates the best design in the way he sees it and that's the proof of authentic love for high fashion.
---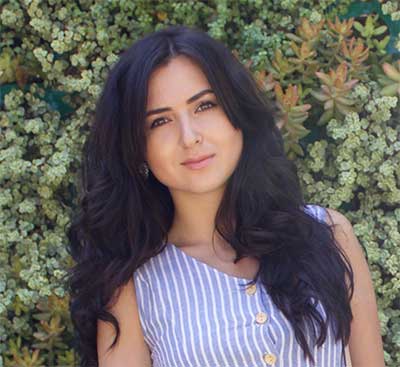 Meet our guest writer and blogger Cristina Burlacu:
"I'm a 24 year old blogger from Eastern Europe. I'm a big fan of books, fashion, movies and oriental culture. When I moved to LA, I got an understanding of how important it is to have a voice in this world, so I created a new blog www.findmyescapade.com, because a new escapade is always a good idea. In Moldova I worked as a TV journalist, but I've been always dreaming about discovering the whole world."