Photo Credit:  Michelle A. H. Cousineau
Beverly Hills, California – Yesterday's Eighth Annual Greystone Mansion Concours d'Elegance in Beverly Hills surpassed record attendance despite threatening weather reports.  Possible thunderstorms did not deter thousands of automobile enthusiasts who enjoyed what turned out to be a beautiful day at the enchanted estate where a full complement of 125 vintage automobiles were on display in this year's Concours field.  Best of Show Concours d'Elegance went to Stan Lucas for his 1929 Lincoln Aero-Phaeton; and, Best of Show Concours de Sport was awarded to A&A Premier Classics for their 1954 Ferrari 500 Mondial.  The Concours honored Ferrari's 70th anniversary and Lincoln's 100th anniversary.  Beverly Hills Mayor Lili Bosse selected the 1935 Adler Trumpf, Junior Sports Roadster.  "I was drawn to the classic style, yet sporty feel of the Adler," said Mayor Lili Bosse.  "It felt chic and elegant and I was thrilled to learn it is owned by a woman."
Thousands of auto aficionados and urban explorers gathered at Greystone Mansion for this elegant event where exceptional automobiles and unique motorcycles graced the historic 18-acre estate in Beverly Hills.  Eugene Garcin's 1934 Cotton was named Best Vintage Motorcycle.
"The Greystone Mansion Concours is unlike most any other automotive events because it offers something for everyone. Each year the show highlights a variety of remarkable cars that are rarely seen by the public and features a completely new field of entries annually," commented Concours Director Cindy Brynan. "This is the 8th year of the event and was easily our most successful ever. We had the honor of receiving the most applications we have ever had for potential exhibitors.  We ultimately showcased 125 world class cars and 10 motorcycles. We thank our attendees and gracious sponsors for all of their support."
Greystone Mansion Concours d'Elegance Signature Awards are designed by local artist Richard Pietruska, whose sculptured awards capture the essence of speed and movement of exotic automobiles of the past as well as the present.  The forms are exaggerated and curved to dramatize the unique character and quality of each automobile as it flows through space.
The Pietruska awards were given in two Best of Show categories and 15 Best of Class categories which included Cadillac, Classics, Corvette, Ferrari, Grand Touring, Jaguar, Lincoln, Mercedes-Benz, Porsche, Porsche Speedster, Post-War American, Post-War British, Post-War Sports, Rolls-Royce and Special Interest.  Nine Special Automobile Awards and three Motorcycle Awards were presented as well.   Entries are assessed per the "French" method of judging which emphasizes the overall impression of the given vehicle, taking into account such factors as originality, authenticity, design, styling, and elegance.  (Complete list of winners attached.)
 In addition to the Best of Show awards, other Concours winners included Jaime Gesundheit's 1964 Chevrolet Corvette, which received the Fédération Internationale des Véhicules Anciens (FIVA) Preservation Award and Petersen Automotive Museum's 1948 Lincoln Continental received the National Automotive Heritage Award.
Guests of this premier Southern California Concours event also enjoyed gourmet food, libations from Tito's, Stella Artois and Asombroso Fine Tequila and desserts by The Peninsula Hotel.   Guests also enjoyed a lecture, "Passion of the Collector" with Peyman Salehi, Senior Vice President of Private Client Services at City National Bank, and David Gooding, President of Gooding & Company, one of the world's foremost automotive auction companies.  British Wheeler Dealer television personalities Mike Brewer and Ant Anstead presented lectures on "The Changing Collector Car Market" and "Where to Buy Best Cars."  Real estate expert Jeff Hyland presented "The Legendary Estate of Beverly Hills," and author, historian Steven Price, presented "Trousdale Estates:  Midcentury to Modern in Beverly Hills."  Unique access to the interior of Greystone Mansion provided guests with a glimpse of rarely-seen rooms and the mansion's first floor became a shopper's delight, with a new automotive artist display upstairs.
The Greystone Mansion Concours d'Elegance was hosted by ABC7 television personality Dave Kunz and television host and automotive journalist, Donald Osborne.  The event is an annual fundraiser for the Friends of Greystone, a non-profit organization whose mission is the ongoing preservation and restoration of the estate, which is one of a handful of nationally registered historic landmarks in Southern California.
 The event's Founding Sponsors are Friends of Greystone and Gooding & Company.  Silver Sponsors:  Asombrosa Tequila, Auto Gallery, Bentley Beverly Hills/Aston Martin Beverly Hills (O'Gara Coach), Bouchon, BRM Watches, Chubb Insurance, City National Bank, KARMA Automotive, Meguiars, Montage Beverly Hills, Sotheby's International Realty, Stella Artois (Annheuser Busch), Tito's Handmade Vodka; Bronze Sponsors: Beverly Coachcraft, Beverly Hills Conference & Visitors Bureau, Burke Williams, Ferrari Beverly Hills, Ferrari Financial, Harry's Auto Collision Center, HVA, Lexus Motors, Longshot Coffee, Luxe Rodeo Drive Hotel, TESLA Motors, Wheeler Dealers; Media Sponsors:  Classic Car Seen, Highline Autos, LA Confidential, Sports Car Market, Vintage Motorsport, Vintage Roadcar, KABC 7.
The 9th annual Greystone Mansion Concours d'Elegance is scheduled for Sunday, May 6, 2018 and occurs annually on the first Sunday of May.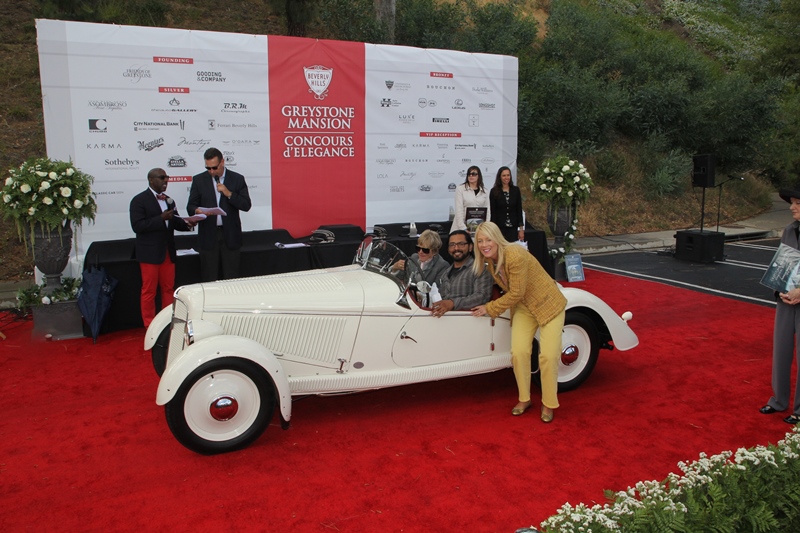 Greystone Mansion Concours d'Elegance 2017 Final Awards
 Best of Show – Concours d'Elegance – Stan Lucas – 1929 Lincoln Aero-Phaeton
Best of Show Concours de Sport – A&A Premier Classics, LLC – 1954 Ferrari 500 Mondial
Best of Class
Cadillac – Brian and Pamela Hermansader – 1940 Cadillac Series 62 Convertible Coupe
Classics – Gerhard and Adrienne Schnuerer – 1911 Mercedes-Benz SO HP Victoria
Corvette – Mike Vietro – 1963 Chevrolet Corvette
Ferrari – Bruce Meyer – 1957 Ferrari 625/250 TRC
Grand Touring – Jim Gianopulos – 1960 Maserati Vignale
Jaguar – Lee Wilson & Rory Murphy – 1963 Jaguar E-Type
Lincoln – Chris Kidd, 1925 Lincoln Dual Cowl Sports Phaeton
Mercedes-Benz – R. Lee Brown -1954 Mercedes-Benz 300 SL Gullwing
Porsche – William Tripodi – 1962 Porsche 356
Porsche Speedster – Will Sanchez – 1958 Porsche Speedster 356A
Post-War American – Ron Berglund – 1965 Pontiac Catalina
Post-War British – Michael Hattem – 1955 Morgan 4 Passenger Drophead Coupe
Post-War Sports – Jerry Rosenstock – 1956 AC Ace Bristol
Rolls-Royce – Ron and Sandy Hansen – 1925 Rolls-Royce Silver Ghost
Special Interest – Stanley Gold 1962 Sabra Sport
Special Awards
Director's Choice – William Heinecke – 1965 Ferrari 500 Superfast
Friends of Greystone Outstanding Restoration – Roland Scott – 1954 Buick Skylark
Mayor's Choice – Alexandra Geremia – 1935 Adler Trumpf Junior Sports Roadster
People's Choice – Peter and Merle Mullin – 1963 Citroen Dandy
Spirit of Greystone – Thomas and Robert Russell – 1926 Lincoln 149-A
SPONSOR AWARDS
BRM Award – Ian Wayne – 1961 Aston Martin DB4
Corvette Mike Award – Buddy Pepp – 1962 Chevrolet Corvette
HVA/FIVA Award – Jaime Gesundheit – 1964 Chevrolet Corvette
Meguilars Outstanding Paint – Kip Cyprus – 1957 Pontiac Bonneville
National Automotive Heritage Award – Petersen Automotive Museum – 1948 Lincoln Continental
Motorcycles – Best of Show
Best Vintage Motorcycle, Eugene Garcin, 1934 Cotton
Best Customer Motorcycle, Adam Gaspic, 1974 Harley 
Best Preservation Motorcycle, Serge Bueno, 1904 Peugeot
Vinnie Mandzak Motorcycle Award, Sonny Nutter, 1970 Triumph