September 21, 2019, Microsoft Theater, Los Angeles, CA
For the whole week Hollywood was celebrating the Emmys with countless events and parties. We chose the best one to attend, the Official Backstage Giving Suite produced by Backstage Creations and its President Karen Wood. Karen is a pioneer of gift suites working in this business since 1990s.
The Suite was located backstage at the Microsoft Theater during Emmy Awards celebration on September 21 and 22. Hollywood stars like Angela Bassett, Viola Davis, Michael Douglas, Bradley Whitford, and the Game of Thrones actors were invited to help raise $150,000 for The Television Academy Foundation to support its students. Actors, who were provided gift bags, signed the items that were later auctioned by the Foundation.
HGM got the best brands for your Emmys consideration:
If you are all about traveling and having fun, it's time to go to… Africa! Famous American actor and comedian Tim Allen checked at Kapama Private Game Reserve table. He mentioned his daughter was just talking about wanting to go on a safari. You can learn more information and have a luxury suite reserved at www.kapama.com.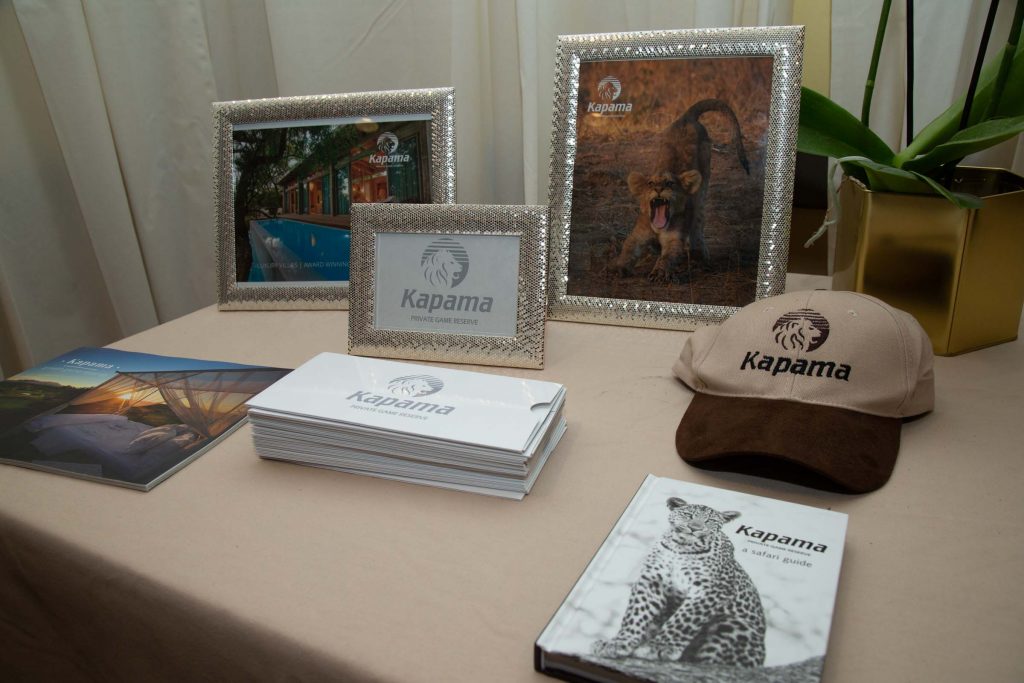 Another sponsor, Four Seasons Resort Nevis fourseasons.com/nevis  got attention of Niecy Nash and Sherri Shepherd, "We have been talking about doing a girl's trip! This is perfect!"
Four Seasons
To consider yourself a pro, don't forget to shop at DELSEY Luggage for your new suitcase:shop.delsey.com/product/turenne/25-spinner-401621820_1?attribute=1d3e047a-345f-4d0e-a441-22dee81aea38. Numerous stars like Dan Levy, Catherine O'Hara, Viola Davis and Ken Jeong autographed the luggage by DELSEY Luggage to support the Foundation.

DELSEY Luggage. Photo by HGM

DELSEY Luggage. Photo by HGM
Young beauty Kathryn Newton fell in love with Dolby Laboratories headphones: "I live in headphones! These will be amazing!" . You have to check this one-of-a kind product at products.dolby.com/dimension. Other celebs like Adam DeVine were noticed enjoying alcoholic beverages by Status Sparkling Wines. "This is great!', – said Adam.  Hollywood star Kathryn Newton admitted, "My status is A+." We suggest to toast to the Emmy Awards winners with a nice bottle of sparkling wine seen at www.drinkstatus.com.

Status Sparkling Wines.. Photo by HGM


Status Sparkling Wines.. Photo by HGM
I would also recognize a new digital printer presented by KODAK kodakphotoplus.com/products/kodak-smile-instant-digital-printer. The printer connects to the free, KODAK SMILE app and is easy to use. Last year winner Regina King said about it, "This is amazing! And so smart. It will make such a wonderful Christmas present."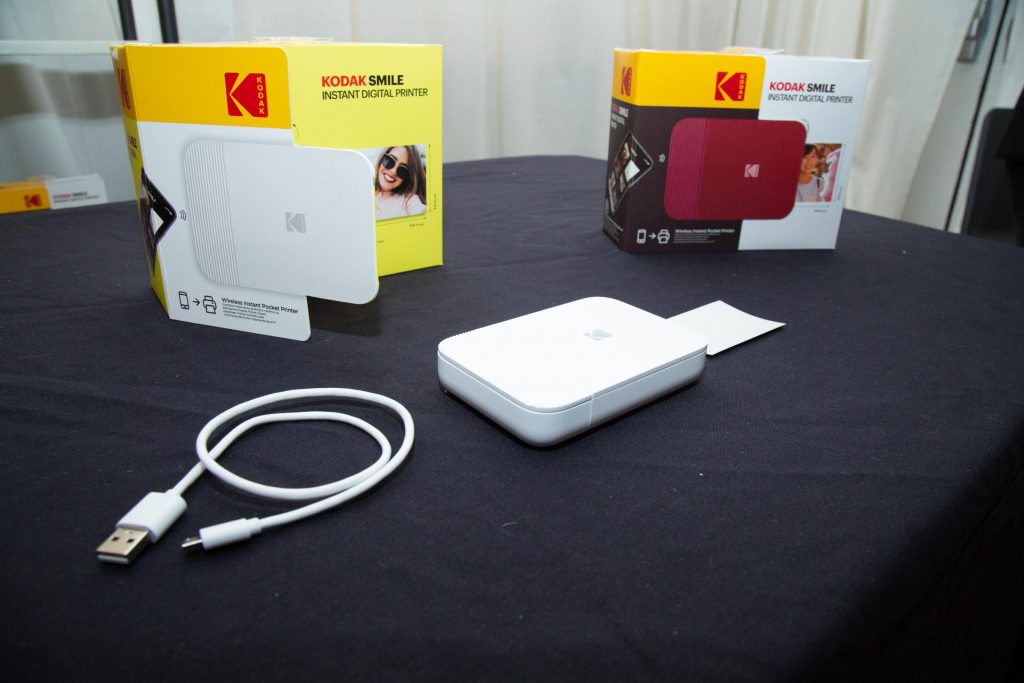 I couldn't resist trying Leaff chocolate dipped Belgian waffles presented by Leaff Waffles (leaffwaffles.com). The tradition of Belgian waffles goes back to the 9th century.
It is no surprise that the Emmy presenter Viola Davis said, "I want to have them all!" and Black-ish star Anthony Anderson mentioned, "I want these to be served at my set." We definitely say "yes" to this European tradition.
LOS ANGELES, CALIFORNIA – SEPTEMBER 22: Viola Davis attends Backstage Creations Giving Suite At The Emmy Awards – Day 2 at Microsoft Theater on September 22, 2019 in Los Angeles, California. (Photo by Alison Buck/Getty Images for Backstage Creations )

Leaff Waffles. Photo by HGM

Leaff Waffles. Photo by HGM
As a fashionista, I had to check on incredible Zenni sunglasses. These stylish but yet affordable sunglasses can be ordered in every style and shape at zenni.com. As Regina King said, "I love love love this. And the sunglasses case is genius."
Zenni. Photo by HGM

Zenni. Photo by HGM
Other items celebrities received included healthy Avocado Leaf Tea by Avocado Leaf Tea Company, wrap-star bracelets by Touchstone Crystal by Swarovski, new from Touchstone Crystal, an anti-aging serum by AZN Labs/ aznlabs.com, Beachbody/beachbody.com fitness apparel, Collagen Peptides by Collagen/ Collagen Laborés, Lumene's Glow Boost Essence Serum by Lumene; Hydrating body butter Lia Reese Canada/ liareese.com; The Tree Hut Vitamin C Shea Sugar Scrub by Tree Hut, Face & Body Gold gel featuring 24k gold infused with ions of platinum by RevealU Skincare Inc, an easy-to-use cold brew coffeemaker by BRUW, NAIPO Massagers (naipocare), the world's first doggie leggings Walkee Paws, and many others.
This year's Giving Suite featured furniture from Ashley HomeStore. Find a store near you, or visit Ashley HomeStore online at ashleyhomestore.com.
About BACKSTAGE CREATIONS:
Created in 2000 by Karen Wood, formerly a talent coordinator on over 50 award shows, to give major corporations as well as up-and-coming designers the exclusive opportunity to personally introduce their products and services to celebrities. BACKSTAGE CREATIONS originated the gifting suite concept and has created Celebrity Retreats™ at various industry honors including the Screen Actors Guild® Awards, Teen Choice Awards, Writers Guild Awards, MTV Movie Awards, MTV VMAs, People's Choice Awards, BET Awards and Billboard Music Awards. BACKSTAGE CREATIONS puts an emphasis on charitable donation at each of our retreats giving our celebrity attendees the opportunity to both give and receive through unique partnerships at our events. Backstage Creations Retreats™ and gift bags have been featured on "Entertainment Tonight," "Access Hollywood," "Extra," "E!" and "TV Guide"; and our clients have appeared in OK Magazine, People.com, Us Weekly, HollywoodLife.com, Just Jared and many other print and online publications.
LOS ANGELES, CALIFORNIA – SEPTEMBER 22: (L-R) Bo Welch, Catherine O'Hara and Daniel Levy attend Backstage Creations Giving Suite At The Emmy Awards – Day 2 at Microsoft Theater on September 22, 2019 in Los Angeles, California. (Photo by Alison Buck/Getty Images for Backstage Creations )

LOS ANGELES, CALIFORNIA – SEPTEMBER 22: Daniel Levy attends Backstage Creations Giving Suite At The Emmy Awards – Day 2 at Microsoft Theater on September 22, 2019 in Los Angeles, California. (Photo by Alison Buck/Getty Images for Backstage Creations )

LOS ANGELES, CALIFORNIA – SEPTEMBER 22: Cherry Jones (L) and Jharrel Jerome attend Backstage Creations Giving Suite At The Emmy Awards – Day 2 at Microsoft Theater on September 22, 2019 in Los Angeles, California. (Photo by Alison Buck/Getty Images for Backstage Creations )

LOS ANGELES, CALIFORNIA – SEPTEMBER 22: Niecy Nash attends Backstage Creations Giving Suite At The Emmy Awards – Day 2 at Microsoft Theater on September 22, 2019 in Los Angeles, California. (Photo by Alison Buck/Getty Images for Backstage Creations )

LOS ANGELES, CALIFORNIA – SEPTEMBER 22: Bradley Whitford attends Backstage Creations Giving Suite At The Emmy Awards – Day 2 at Microsoft Theater on September 22, 2019 in Los Angeles, California. (Photo by Rebecca Sapp/Getty Images for Backstage Creations)

LOS ANGELES, CALIFORNIA – SEPTEMBER 22: Luke Kirby attends Backstage Creations Giving Suite At The Emmy Awards – Day 2 at Microsoft Theater on September 22, 2019 in Los Angeles, California. (Photo by Alison Buck/Getty Images for Backstage Creations )

LOS ANGELES, CALIFORNIA – SEPTEMBER 22: Luke Kirby (L) and Andrea Sarubbi attend Backstage Creations Giving Suite At The Emmy Awards – Day 2 at Microsoft Theater on September 22, 2019 in Los Angeles, California. (Photo by Rebecca Sapp/Getty Images for Backstage Creations)

LOS ANGELES, CALIFORNIA – SEPTEMBER 22: Anthony Anderson (L) and Regina King attend Backstage Creations Giving Suite At The Emmy Awards – Day 2 at Microsoft Theater on September 22, 2019 in Los Angeles, California. (Photo by Alison Buck/Getty Images for Backstage Creations )

LOS ANGELES, CALIFORNIA – SEPTEMBER 22: Regina King attends Backstage Creations Giving Suite At The Emmy Awards – Day 2 at Microsoft Theater on September 22, 2019 in Los Angeles, California. (Photo by Rebecca Sapp/Getty Images for Backstage Creations)

LOS ANGELES, CALIFORNIA – SEPTEMBER 22: Alfie Allen attends Backstage Creations Giving Suite At The Emmy Awards – Day 2 at Microsoft Theater on September 22, 2019 in Los Angeles, California. (Photo by Rebecca Sapp/Getty Images for Backstage Creations)