FOR IMMEDIATE RELEASE
March 31, 2017 
On the Runway: Belarusian-American Designer Tatiana Shabelnik Showcases Global Inspirations at 2017 LA Fashion Week – LA Fashion Showcase – a wonderful event for a greater cause
BEVERLY HILLS, Calif. –– Los Angeles Fashion Showcase, and the American Heart Association, would like to present the Rock the Red Project ®. A collaborative initiative presented by Los Angeles Fashion Showcase, raising awareness on the impact of Heart & Stroke Disease in Men, Women and Children. Los Angeles Fashion Showcase empowers, educate, and motivate boldly actions by driving conversation on digital and mass media outlet's both online and offline.
Los Angeles Fashion Showcase® forms an international production agency with global initiatives with emphases on production, marketing and event management. This is truly an event that incorporates celebrities and designers.
Joining this season's landmark event is Belarusian-American designer Tatiana Shabelnik, who brings her globally, inspired collection "Contrast" to the runway on Saturday, April 1 at 2 p.m. The show will take place in Beverly Hills.  
"Contrast" presents a dramatic fusion of bold colors and contrasting textures in leather, silk, and chiffon, inspired in part by the colorful works of Russian artist Vassily Kandinsky and Belarusian/French artist Marc Chagall. Her signature use of orange reflects enthusiasm, warmth, and happiness while also capturing energy and cheerfulness.
As a Soviet emigrant, Shabelnik says that her selection of colors celebrates the spirit of risk-taking, physical confidence, and vivacious competition and independence that she has experienced during her own journey from East to West.
This season she has chooses RED as a new ORANGE, ORANGE as a new Black. The color palette of her luxury fashion line is primarily red-and-black, gradually transforming into orange. 
As Tatiana's friend, Jeri Ferris wrote in her blog, "Red. A significant word. In Russian, it is "krasny," which means both the color red and the concept of beauty. So Red Square, Krasnaya Ploshchad, means both red and beautiful, and it truly is both."
By offering a contrast between contemporary Los Angeles glamour and the vivid ancestral past of rural Belarus, Shabelnik's work is rooted in the Belorussian folk dresses of her youth with a modern twist. She provides a cosmopolitan and playful blend of colors and textures inspired by her fearless personality.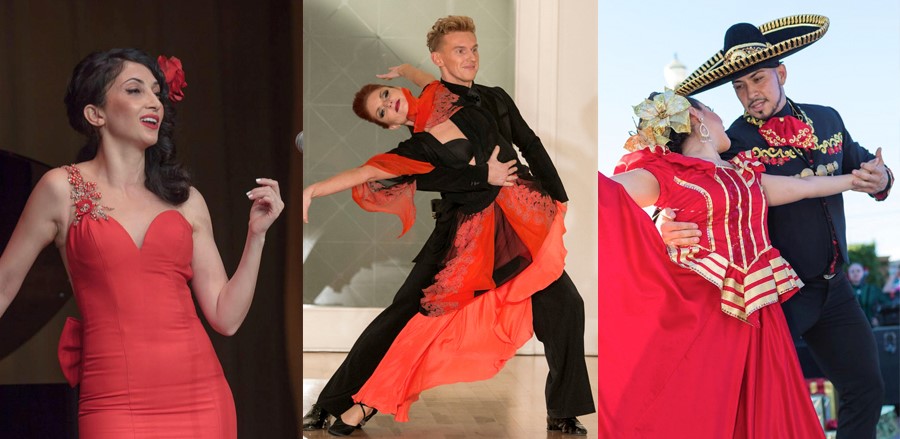 As noted by the Los Angeles Times, her pieces are a fun "interplay of bold color and contrasting textures" that she considers "wearable art."  
"I want people to wear my designs in everyday life, not simply for the sake of a runway," she says.
Shabelnik's work has been featured in various publications, including the Los Angeles Times, Whittier Daily News, Fashion MOST Magazine, Whittier Daily News, Elements magazine, Magazine MADAME (Dubai), Elegant Magazine, OBSCURAE, En Vie (Japan), Dreamingless (UK), and podcasts and radio interviews. Shabelnik also participated in Elephantasia, collaboration among 13 designers at last year's Vancouver Fashion Week to raise public awareness about the rising elephant crisis in Africa. Shabelnik and Elephantasia's other designers were featured in the New York Times and UK VOGUE.
In addition to clothing, Shabelnik also creates jewelry to complement and accentuate her line.  With a range of colors and designs, Shabelnik's jewelry is meant to inspire—much in the same way that Chagall and Kandinsky have inspired her.  Her jewelry, like her clothing designs, is meant to be more than simple merchandise: it is art to be worn and celebrated in daily life.
It is also not a coincidence that when Tatiana does runways, she merges dance, choreography, music and fashion. In this showcase you will be pleasantly surprised by an astonishing performance of pro ballroom dancers, Maksim Leonov and Melaina Larson, as well by very known Whittier based company- Paso de Oro Dance Company. Tatiana  danced on Paso de Oro bachata performance team for a year and is very passionate about Latin Dancing.  Era Kayln, opera singer from Moscow, will be part of the show as well.
To Tatiana, fashion is like dance; it is all about movement … it is "movement in color."